PCI DSS Compliance
Acceptiva is a Visa/Mastercard Payment Card Industry Data Security Standards (PCI DSS) certified Level One Service Provider and Gateway.
We actively monitor, maintain and enhance our security daily – culminating in PCI DSS compliance certification through an annual security audit conducted by one of the nation's leading Quality Security Advisors, MegaPlan IT. Our security compliance includes actively monitoring and reacting to topical potential vulnerabilities, as well as developing, testing, and maintaining secure systems and applications.
All data transmitted over Acceptiva's network is encrypted using industry standard TLS (Transport Layer Security) and strong ciphers. Our secure certificates use SHA-2 as the hashing algorithm.
You can verify Acceptiva's PCI DSS compliance with VISA and MasterCard on their respective Global PCI DSS Service Providers websites.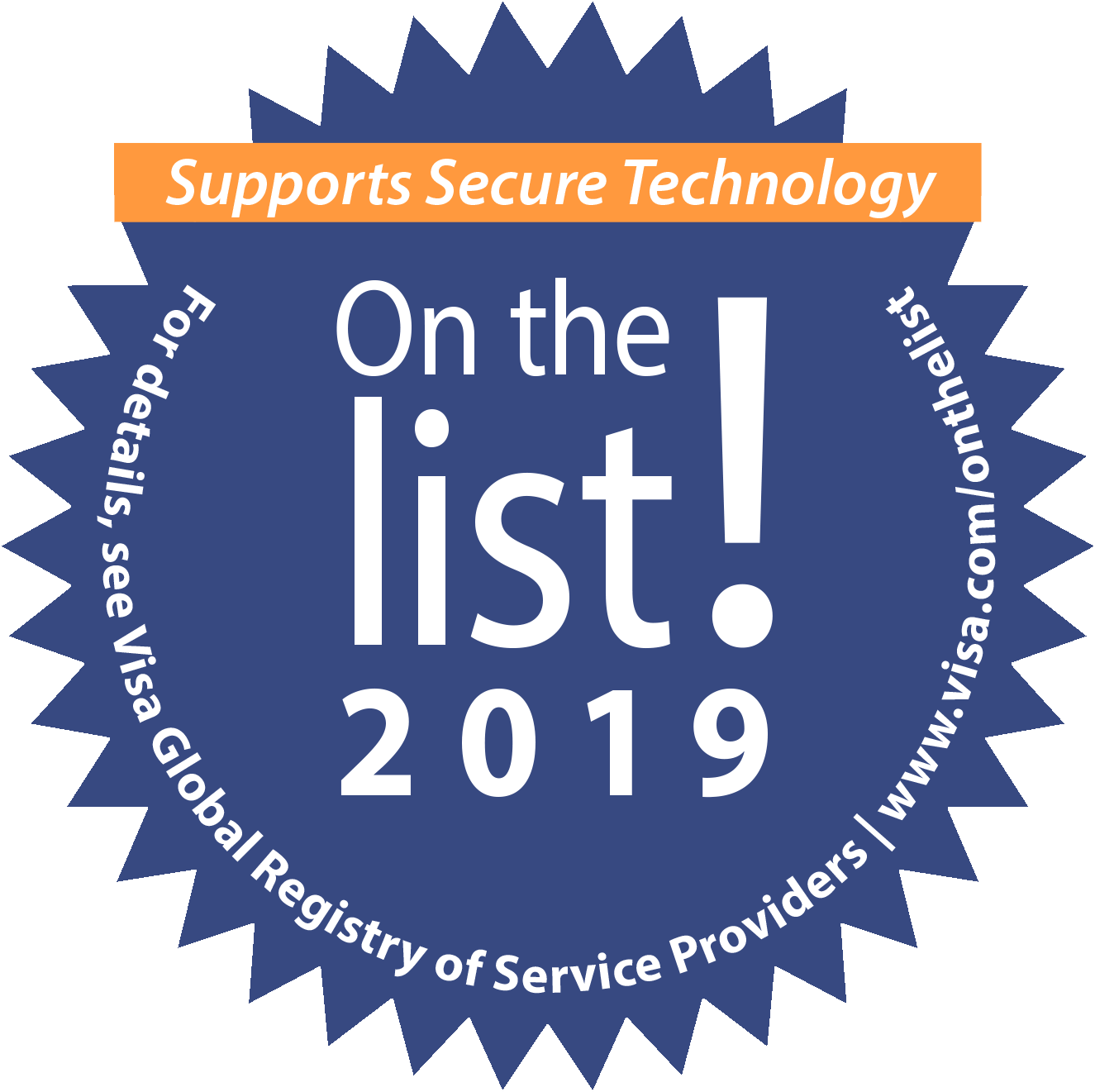 Acceptiva Terms and Conditions
Welcome to Acceptiva!
This Client Service Agreement ("Agreement") is a contract between you and Acceptiva, LLC (Acceptiva) and governs your access to and use of the online payment processing, payment form creation and hosting, and data reporting services that Acceptiva makes available through Acceptiva.com (collectively the "Service"). You should read this agreement carefully before signing up for the Service. You must read, agree with, and accept all of the terms and conditions contained in this Agreement and the Privacy Policy, without change, before you may use The Service.
This Web site and the services accessible through this Web site are owned and operated by Acceptiva. Whenever this Agreement refers to "we", "our", or "us", we are referring to Acceptiva and references to "you" or "your" mean any person or entity using the Service ("Clients").
From time to time we may revise or modify this Agreement by posting the revised Agreement on this site. The new Client Service Agreement will govern any subsequent use by you of this site or the services accessible on this site.
The Acceptiva Service
Acceptiva provides secure, customized forms to enable the acceptance of credit and debit card (and optionally e-check/ACH) payments online. We integrate our Service and software (payment forms) with a merchant account provided by a Payment Processor. Acceptiva also provides access to transaction data that can be exported for reporting purposes. Acceptiva may also provide, for a separate fee, a range of optional services that enhance the standard Acceptiva Services.
The Merchant Account
A merchant account is a facility that enables clients to process credit and debit cards or e-checks/ACH payments. Merchant accounts may be provided to Acceptiva clients by a Payment Processor of their choosing or a Payment Processor referred by Acceptiva. The agreement between Acceptiva clients and the Payment Processor is separate and distinct from this Agreement, and Acceptiva is in no way liable for the actions and interactions of either party to the Payment Processor's agreement. You may terminate your relationship with Acceptiva and still maintain your merchant account with the Payment Processor subject to the pricing set out in the merchant account agreement.
Acceptiva is Not a Bank
You acknowledge that Acceptiva is not a bank and agree that any dispute or discussion concerning the deposit of funds into your account, the issuance of refunds, credits or voids, or the withdrawal of funds from your bank account for merchant account fees and charges should be addressed to the Payment Processor that provides your merchant account. You agree to forever release and hold Acceptiva harmless from any cost, damage, or other injury that may arise out of the relationship or agreement between you and your Payment Processor.
Eligibility
Our Service is available only to organizations resident in the United States that can form legally binding contracts under applicable law. Without limiting the foregoing, our Service is not available to minors (under 18), persons or organizations who are suspended from our Service, persons or organizations whom we deem to present an unacceptable level of risk and or persons or organizations who use or intend to use the Acceptiva Service to accept payments on behalf of entities other than their own primary organization, unless they are a designated fiscal sponsor. Acceptiva may refuse or suspend service to any organization or person at any time, for any reason.
Restricted Activities
Your Information and your activities through our Service shall not: (a) be obscene or involve the sale or display of pornography of any kind; (b) be false, inaccurate, misleading, fraudulent or illegal; (c) be related in any way to gambling and/or gaming activities of any kind; (d) infringe on any third party's copyright, patent, trademark, or other property rights or privacy; (e) violate any law, statute, ordinance, contract or regulation; (f) be defamatory, libelous, unlawfully threatening or unlawfully harassing; (g) involve aggregation of payments on behalf of entities other than your own primary organization, or (h) create liability for us in any way. If you use, or attempt to use the Service for any of the afore mentioned restricted activities, your account will be terminated. If you use, or attempt to use the Service for purposes other than receiving payments and managing your account, including but not limited to tampering, hacking, modifying or otherwise corrupting the security or functionality of the Service, your account will be terminated and you will be subject to damages and other penalties, including criminal prosecution where available. Acceptiva reserves the right to terminate the service, without notification, of any client we deem to be engaging in any of the restricted activities above or activities we deem to be detrimental to the integrity of the Acceptiva technology platform or the viability of the Acceptiva business or business model.
Acceptiva's Interaction with your Donors and Payers
Acceptiva may on occasion contact individuals that make payments using the Acceptiva service to verify and confirm the authenticity of transactions that we have reason to believe may be fraudulent or related to unusual activity. We cannot guarantee that fraudulent transactions will not take place on your Acceptiva forms. Fraudulent activity on nonprofit donation and payment forms is rare, but not unheard of, and usually consists of fraudsters testing stolen payment cards to determine if they are valid. We highly recommend that you actively monitor transactions and process voids or refunds for transactions that you suspect may be fraudulent. Optional fraud monitoring services may be available from your Payment Processor.
Access to Service
We make this site available for use by our clients, subject to this Client Service Agreement. In order to access and use our services, you must (i) complete the sign up process, (ii) be approved as a client by Acceptiva , (iii) be approved for a merchant account by a Payment Processor that is able to integrate with the Acceptiva gateway platform and (iv) pay the appropriate one-time sign-up fee and contracted Service Fees. Approval as an Acceptiva client is at Acceptiva's sole discretion.
Your Responsibility as an Acceptiva Client
Acceptiva creates, edits and manages your Acceptiva forms. Form editing and management is conducted by our team of knowledgeable and skilled customer service representatives located in beautiful Snoqualmie, WA. Our representatives rely on our clients to accurately communicate new form and edit requests to ensure that your Acceptiva forms reflect your needs and requirements in every way, including but not limited to all payment item dollar amounts, custom data fields and contacts that will have access to your Acceptiva account. Although we are ever diligent in our work, it is your responsibility as an Acceptiva client to review and test new forms and verify edits for accuracy and applicability. Acceptiva accepts no responsibility for form content or edits to forms made by Acceptiva customer service representatives or monetary losses incurred by your organization as a result of inaccurate Acceptiva form content, or incorrectly applied edits. You agree to forever release and hold Acceptiva harmless from any cost, damage, or other injury that may arise out your use of Acceptiva forms and the Acceptiva service.
Password Access
As an Acceptiva client you will have access to the Acceptiva Client Manager through which you may access transaction data and manage your Acceptiva account. You will be assigned a password to access the Acceptiva Client Manager. Access to and use of password-protected and secure areas is restricted to clients. You are responsible for maintaining the confidentiality of your password. Keep your password in a secure place and do not allow any unauthorized persons to access to your password. If you become aware of any unauthorized use of your password or other security breach, change your password and notify Acceptiva immediately.
Acceptiva Service Fees
Acceptiva Service Fees can be found on the Pricing form of our website ("Acceptiva Service Fees"). Acceptiva Service Fees may change periodically, and any changes will be communicated to clients at least 30 days prior to the next billing cycle.
Merchant Account Fees
Merchant account fees are independent of Acceptiva Service Fees and are billed by your Payment Processor. Generally speaking, merchant account fees are billed one week after the end of the month and commence when your merchant account is made live by the Payment Processor. Refer to your merchant account agreement to determine the precise timing of when your merchant account fee will be billed.
Billing Terms
Acceptiva Service Fees are billed monthly for the upcoming month (Monthly Fees) and at the end of each month (Platform Fees). Acceptiva Service Fees are debited via ACH from your bank depository account and commence upon receipt by Acceptiva of your ACH authorization form. The billing date for your Acceptiva account or the bank depository account to be debited can be changed by contacting Acceptiva Customer Service.
ACH Authorization
You authorize Acceptiva to initiate transaction entries to, and to debit Acceptiva Service Fees from, your bank depository account on record in the Acceptiva Client Manager. Transaction entries initiated to or from your bank depository account will be in accordance with the rules of the National Automated Clearing House Association (NACHA). If your bank depository account number changes you must promptly update your account information in the Acceptiva Client Manager Interface or contact Acceptiva Customer Service to do so. If you fail to provide Acceptiva with an accurate current depository account, Acceptiva may discontinue its performance of the Acceptiva Services for you.
Term
This is a 30 day contract that commences as of the date of approval by Acceptiva and continues thereafter on a month-to- month basis unless terminated in writing by the Client. Notification of termination must be communicated to both Acceptiva and, if applicable, our Payment Processing Partner.
Closing Your Account
You may close your account upon thirty (30) days' notice to Acceptiva by submitting a request via e-mail to Acceptiva Customer Service. Such notice will only be effective upon your receipt of a return e-mail confirmation from Acceptiva Customer Service. Upon closure of an account, any monthly fees due will be debited from your bank account and any active payment forms will be de-activated and rendered unable to process payments. All access to transaction data will also be terminated and all transaction data and other client related data will be deleted from Acceptiva servers. Closed accounts can only be reopened by payment of a new Acceptiva sign-up fee.
Changes to the Service
Acceptiva reserves the right, in its sole discretion, to modify, suspend or discontinue all or any part of the services or tools, including this Agreement, at any time with or without notice to you. Unless specifically exempted, any new features, services or software applications introduced will be subject to this Client Service Agreement.
Privacy and Security
We are committed to protecting your privacy and the privacy of your donors. All Acceptiva forms are hosted on our PCI DSS compliant secure servers and all data is encrypted using 256 bit TLS, industry standard secure technology. We do not ever sell or rent your personal information to third parties for marketing purposes and we only use your information in aggregate as described in the Acceptiva Privacy Policy. Users of a client's payment form will at no time receive advertisements or solicitations in any form that originate from Acceptiva. Our Privacy Policy governs Acceptiva's use of information provided by you and your clients, and Acceptiva may amend it from time to time. The Privacy Policy is incorporated into this Client Service Agreement by reference.
Trademarks
The names Acceptiva, Acceptiva Unlimited, AcceptivaGo, AcceptVia, AcceptivaPro, Acceptiva.com, the Acceptiva logo and any other product and service names that we may present on the site may not be used in connection with any product or service that is not Acceptiva's, nor in any manner that is likely to cause confusion, or in any way that may disparage or discredit Acceptiva. They must not be used without the express permission of Acceptiva. Other trademarks, service marks or logos that appear on the site are the property of their respective owners and are likely to be registered trademarks and subject to restrictions as to their use. They must not be used without the express permission of the trademark owner.
Advertising and Use of your Organization's Name and Online Images
To help us promote the Acceptiva service to other organizations, you agree to the following:
You give us permission to use your organization's name and any images submitted by you for inclusion on Acceptiva forms, in our social media campaigns and advertising. This means, for example, that you permit Acceptiva to communicate that your organization is an Acceptiva client and to display images that are on your Acceptiva forms, to promote the Acceptiva service.
You will not be compensated for giving your permission to us do so.
We do not receive compensation for the use of your name and images in our campaigns and advertising.
Copyright
All content on the Acceptiva site is owned by Acceptiva and is protected by applicable intellectual property and proprietary rights and laws.
Severability
If any portion of this Agreement is determined by a court of competent jurisdiction to be invalid for any reason, the remainder of this Agreement and the validity thereof will remain unaffected, and will remain in full force and effect.
Successors and Assigns
This Agreement shall be binding on the respective parties' heirs, successors, and assigns.
Governing Law
This Agreement is entered in the State of Washington and shall be construed and governed under the laws of the State of Washington. The venue for resolution of any dispute under this agreement shall be King County, Washington.
Limitation of Liability
Each Party's liability to the other, whether in tort or otherwise, shall be limited to direct damages, which shall not exceed the amounts paid to Acceptiva under this Agreement. Under no circumstance shall either Party be responsible or liable to the other Party for indirect, incidental, or consequential damages, including, but not limited to, economic loss or lost business or profits, even if the other Party has been advised of the possibility of such damages.
YOUR USE OF THIS SITE AND THE ACCEPTIVA SERVICE IS AT YOUR SOLE RISK. ACCEPTIVA PROVIDES THE SERVICE ON AN "AS IS," "AS AVAILABLE" BASIS. TO THE MAXIMUM EXTENT PERMITTED BY LAW, ACCEPTIVA EXPRESSLY DISCLAIMS ANY AND ALL WARRANTIES, EITHER EXPRESS OR IMPLIED REGARDING THE SITE, AND THE SERVICE, INCLUDING, BUT NOT LIMITED TO, ANY IMPLIED WARRANTIES OF MERCHANTABILITY, NON-INFRINGEMENT, FITNESS FOR A PARTICULAR PURPOSE AND TITLE, AND ANY AND ALL IMPLIED WARRANTIES ARISING FROM STATUTE, COURSE OF DEALING, COURSE OF PERFORMANCE OR USAGE OF TRADE. ACCEPTIVA MAKES NO WARRANTY OR REPRESENTATIONS AS TO THE QUALITY, RELIABILITY OR VALIDITY OF THE CLIENT SITES THAT USE OUR SERVICES AND ASSUMES NO LIABILITY OR RESPONSIBILITY FOR THEM.
Notices
Any notices required under this Agreement shall be sent in writing to the following address:
Acceptiva, LLC
PO Box 104
Snoqualmie, WA 98065
This Terms and Conditions document was last updated – January 2019.
Privacy Policy
Privacy Statement
As a data processor, Acceptiva ("We") are committed to protecting and respecting your privacy, which includes any items of personal data which altogether could constitute the personal information that you may choose to provide to us or to our clients via our forms, API, or platform ("Personal Information"). This policy (together with our Terms and Conditions) defines how any personal data we collect from you, or that you provide to us, will be processed by us. Please read the following carefully to understand our views and practices regarding your personal data and how we will treat it. By visiting acceptiva.com you are accepting and consenting to the practices described in this policy. We will process all your Personal Information in accordance with applicable data protection law.
Introduction
Our goal is to provide you with a personalized internet experience that delivers the information, resources, and services that are most relevant and helpful to you. To achieve this goal, we sometimes collect information during your visits or when you log into your profile associated with one of our clients, and we may also ask you for Personal Information that enables us to give you access to some parts of our web site and our clients' managed services. We will not disclose your information to any person outside our organization or outside the organization for whom we process, store, and manage data, except as described in this Privacy Policy. To demonstrate our commitment to your privacy, we have prepared this statement disclosing our privacy practices. This statement describes what personal identifying information is collected, how and when we might use your information, how we protect your information, who has access to your information, and how you can correct any inaccuracies in the information.
Information We Receive
We collect certain information from and about our visitors in three ways: from the information that you voluntarily enter into Acceptiva forms or the forms created by our clients and sent to our platform via our API, by means of cookies that we use to enable log in access to your profile or Acceptiva account, or from web server logs that we use to manage our fraud monitoring and prevention tools and to understand the types of devices and browsers used to access our platform.
1.Web Server Logs
When you visit our Website or any of the Acceptiva forms that we host for clients, we may track information to administer the site and analyze its usage. With each visit we may automatically collect the following information:
technical information, including the Internet protocol (IP) address used to connect your computer to the Internet, your login information, browser type and version, time zone setting, browser plug-in types and versions, operating system and platform.
information about your visit, including the full Uniform Resource Locators (URL) that referred you to our Site (including date and time); page response times and download errors.
2.Cookies
Cookies are small text files stored on your computer by your browser. They are used for many things, such as remembering whether you've visited the site before so that you may remain logged in. Cookies do not include Personal Information about you, they cannot harm your computer, and do not contain any viruses. Acceptiva uses cookies to improve your experience on our site and the areas of our platform that you log into to access your profile or Acceptiva account. We would like to let you know a few things about our cookies:
Certain cookies are essential to the proper function of this site.
We do not track your personal activities when you're not on this site.
3.Information that you enter into Acceptiva hosted forms or via our API
Users of Acceptiva forms or forms that our clients create that send information to us via our API provide information to Acceptiva, some of which we need to complete the online transaction process. Some of the information provided may be optional. The Personal Information you give us to enable the completion of an online transaction process may include your name, address, e-mail address, telephone number, credit card or bank account numbers and other relevant information.
Use of Your Personal Information
We will use the information you give to us to:
carry out our obligations arising from any contracts entered into between you and us and to provide you with the information that you request from us;
ensure that content from our site is presented in the most effective manner for you and for your computer.
We will use Personal Information we collect about you:
to complete the online transaction processing on behalf of our clients as appropriate, depending on the form that you voluntarily interacted with;
to improve our site to ensure that content is presented in the most effective manner for you and for your computer;
as part of our efforts to keep our site safe and secure;
Sharing of Identifiable Information
We will share your Personal Information as required by law or by the order of any competent court or (semi-) governmental authority or in matters of public safety or policy. Under strict conditions of confidentiality, we will share your Personal Information with our clients for whom we process, store and manage transaction data. Our clients have access to your data per their agreement with Acceptiva, via a secure login to their Acceptiva account. Each client may have a privacy policy that differs from Acceptiva' privacy policy. Please refer to the client's own privacy policy. Acceptiva is not responsible for any uses of an individual's information by our clients. We will also share your Personal Information as may be needed in connection with the enforcement of agreements.
Security Measures
Acceptiva is a Level One PCI DSS Service Provider. We use technical security measures to prevent the loss, misuse and alteration of information under our control, and information about our clients and their donors, payers (constituents) and their web site usage is maintained in a secure environment. Information about our clients or their constituents and their web site usage is not shared with third parties for marketing purposes. We do not disclose any information about any client's usage or their constituent's usage of our web site.
Where we store your data
The data that we collect from you will be transferred to, and stored at, a secure data center. By submitting your personal data, you agree to this transfer, storing or processing. We will take all steps reasonably necessary to ensure that your data is treated securely and in accordance with this privacy policy. All Personal Information you provide to us is stored on our secure servers. Where we have given you (or where you have chosen) a password which enables you to access certain parts of our site, you are responsible for keeping this password confidential. We ask you not to share a password with anyone. Unfortunately, the transmission of information via the internet is not completely secure. Although we will do our best to protect your Personal Information, we cannot guarantee the security of your data transmitted to our Site; any transmission is at your own risk. Once we have received your information, we will use strict procedures and security features to try to prevent unauthorized access.
Access to your Information
If your transaction on the Acceptiva platform was initiated from within one of the countries that is a member of the European Union (EU), the GDPR Act gives you the right to access information held about you. Your right of access to personal information stored by Acceptiva can be exercised in accordance with the Act, by sending an email to privacy@acceptiva.com.
Acceptiva will also remove, change personal information and stop any processes associated with personal information that resides on Acceptiva's secure servers, as requested by the owner of the information (data subject) as required by the Act. To request removal or a change of information in accordance with the Act, send an email to privacy@acceptiva.com.
To access or request removal or changes of information provided by you via Acceptiva forms or our API but stored independently by our clients on their own secure servers, contact the appropriate client directly.
Privacy Policy Changes
It is our policy to post any changes we make to our Privacy Policy on this page. It is your responsibility to check this page from time to time to check for any change.
Contact
Questions, comments and requests regarding this privacy policy are welcomed and should be addressed to privacy@acceptiva.com.
This privacy policy was last updated – January 2019.